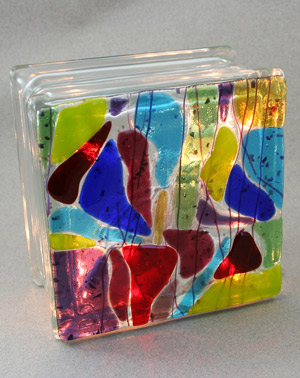 The Glass Fused Glass Blok Lights Workshop will introduce students to the fused glass terms and teach them fused glass techniques by creating a beautiful 'Blok Light'. These are the same techniques used to make fused glass jewelry and bowls. We will explore the medium with topics including class compatibility, thermal shock, proper use of cutting, and grinding tools, preparing pieces for the kiln and firing. Students will produce 2 glass panels which will be adhered to the hollow glass blocks, and prepare them with lights. This is a beautiful and functional product which you will be proud to display and talk about for a lifetime.
Taught by Suzanne Pisano
For ages 14-18, this class is limited to 8 students.
Sunday May 18 2-5 pm Glass Studio
Sunday June 1 2-3:30 pm Glass Studio
Teacher Bio
Raised in southern New York State, Suzanne Pisano has always been interested in art. She holds Bachelors and Masters degrees in computer science from Iona College where she also studied art. She operates her studio in Newtown, Connecticut where she designs and produces fine jewelry, photographs and other handcrafted items.
Register for the Glass Fused Glass Blok Lights Workshop
Please Note: You will receive an email confirmation of your place in class. If you select a class with two parts, please make sure you are able to attend both workshop dates. Finished workshop pieces will be kept for a Gallery Exhibit on Saturday, June 28th.
Our classes have been filled! Thank you for your interest in our Free Children's Workshops.