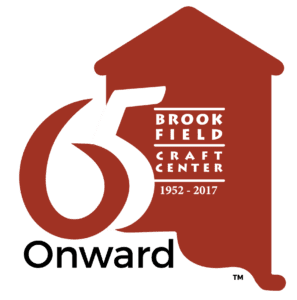 Onward 65 Brookfield Craft Center's Anniversary Celebration and Auction
Saturday, September 16, 2017
Visual and Performing Arts Center – Western Connecticut University
65 years ago, Nancy Dubois Hagmayer purchased an old Mill Building on the banks of the Still River to create an educational institution dedicated to teaching and preserving the skills of fine craftsmanship. Her vision and action was the origin of the Brookfield Craft Center, a special place where so many have found their creative spark, working in clay, metal, glass, wood, jewelry, fiber and much more! Today, BCC is a bustling arts organization that serves over 3,500 people of all ages through its classes, lectures, events, exhibitions and Gallery Store.
You are cordially invited to come celebrate a legacy of excellence in craft education! Together as a community of artists, fine craftsman, faculty members, volunteers and supporters we will reflect upon the past and celebrate an exciting future! The evening will feature comments by nationally known arts advocate, Randy Cohen, a presentation highlighting BCC's history and accomplishments and plans, light entertainment, heavy hors d'oeuvres, and an amazing auction. The auction will be made up of unique fine craft pieces, art, and art experiences. As one of the premier events of the season, participants will have a great time for a great cause. Tickets for a handmade Damascus knife, donated by the History Channel's first "Forged in Fire" Champion, Matthew Parkinson, will be on sale starting May 20th for $10 a ticket. The winning ticket will be drawn during the anniversary celebration.
Tickets to Onward 65 are just $65 per person and are available online at : https://www.craftcenter65.org
Beautiful fine craft pieces, art experiences, studio tours and unique art-themed items are needed to make the Onward 65 Auction amazing. All proceeds of the auction will benefit the Brookfield Craft Center's programs and facilities. The deadline to make a commitment to the auction is Friday, July 14th. Physical Items should be delivered to the Craft Center between Friday, September 1 and Wednesday, September 13th. To become an auction donor, download the donation form or contact avlangas@brookfieldcraft.org.
Sponsorships and advertising in the event program are still available. For more information, please contact Amber Vlangas, Manager of Charitable Giving at avlangas@brookfieldcraft.org or download sponsorship and advertising information here.
---
Thank You to Our Event Sponsors
Gold
Fairfield Processing
Silver
Deakin, Edwards and Clark
People's United Bank
Savings Bank of Danbury
Collins Hannafin, P.C.
Fairfield County Bank
Bronze
Friends of the Arts of Brookfield, Inc.
Sponsorships and ads are still available.