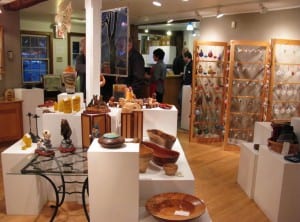 Brookfield Craft Center's 44th Annual Holiday Sale features an extraordinary collection of contemporary American craft for the holidays: handmade works by more than 150 selected artists in jewelry, wearable fiber, ceramics, toys, glass, wood, paper and steel. All purchases benefit the Craft Center's education programs, and provide support for independent artists.
This special annual sale runs
November 9 to December 31, 2019
Come to the Opening Reception Friday November 8 from 5-8pm.
Meet the Artists
Shop Tax Free!!
Refreshments are served.
Not a member?
Join today
.
Take part the treasured tradition of giving handmade in the United States gifts for the holidays.
Route 25 at 202, Brookfield, CT
203-775-4526
info[at]brookfieldcraft.org