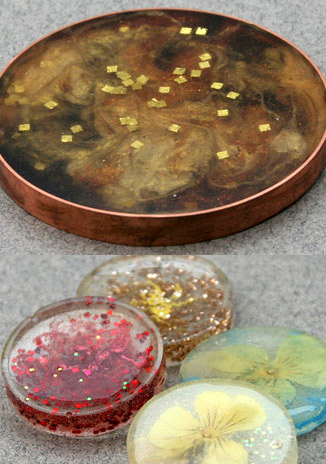 Create your own Resin Casting game pieces.
Great father and son activity or student can attend with any adult. Each set of partners will use 2 part resin to make a custom checkers set. You will learn about different types of resin, as well as other uses for the medium. Several additive options will be available in the class so you can custom create a unique look and color to your game piece set.
Taught by Suzanne Pisano
For ages 8-14, this class is limited to 6 students. This class requires an adult register and attend with a child.
Sunday May 18 11-1 pm Jewelry Studio
Sunday June 1 11-1 pm Jewelry Studio
Teacher Bio
Raised in southern New York State, Suzanne Pisano has always been interested in art. She holds Bachelors and Masters degrees in computer science from Iona College where she also studied art. She operates her studio in Newtown, Connecticut where she designs and produces fine jewelry, photographs and other handcrafted items.
Register for the Resin Casting Workshop
Please Note: You will receive an email confirmation of your place in class. If you select a class with two parts, please make sure you are able to attend both workshop dates. Finished workshop pieces will be kept for a Gallery Exhibit on Saturday, June 28th.
Our classes have been filled! Thank you for your interest in our Free Children's Workshops.