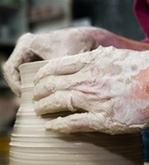 SAMPLER WORKSHOP: Throwing Clay on the Wheel
Sun. September 16, 2012, 12-4pm
Wheel throwing is magical to watch. But you can actually try it yourself in this hands-on beginner's class. Your instructor will guide you through making simple pots on the wheel with demonstrations and individual coaching.
This Sampler Workshop, instructed by Clare Lewis, will give you a taste of the ceramics program at BCC. Sampler Workshops are short introductions to media and techniques, and always cost $100 or less. You might just find your new artistic calling, but you will never know unless you give it a try.