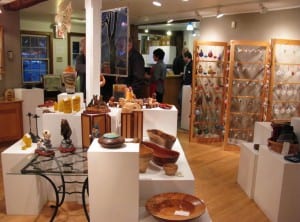 The leaves may not be changing yet, but we have been working all summer long to bring you the perfect gifts for the holidays.
Brookfield Craft Center's 37th Annual Holiday Exhibition will feature an extraordinary collection of contemporary American craft for the holidays: handmade works by more than 140 selected artists in jewelry, wearable fiber, ceramics, toys, glass, wood, paper and steel. All purchases benefit the Craft Center's education programs, and provide support for independent artists.
Delivery trucks have already begun dropping off gifts from your favorite artists. Our storage shelves are stacking high with new work and BCC holiday classics. Mark your calendars for BCC Members' Preview Friday November 2, 2012. Not a member? Join today. The sale runs November 3 to December 31, 2012.
Interested in volunteering? The fun starts now with sale preparations, runs through the holidays and into the new year. Contact us for more information.