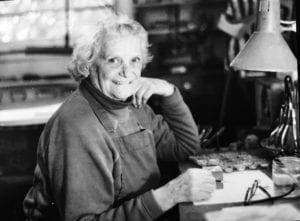 Brookfield Craft Center is proud to present a comprehensive retrospective exhibit of the work of Hilda Kraus, a mid-century modern craftsman known for her beautifully designed jewelry, enameled metalwork boxes and decorative items. The exhibit will be on display in the Lynn Tendler Bignell Gallery from April 8th to the 30th. An opening reception will be held Saturday, April 8 from 5 – 8 p.m. The event is free and open to the public. Donations are welcomed.
Hilda Kraus was seen as a leader and innovator in the fields of enameling, metalwork and jewelry design in the postwar era. She received her B.A. from Hunter College in New York and subsequently studied sculpture with the prominent artist Chaim Gross. Ms. Kraus then maintained a three-year apprenticeship with a Danish silversmith living in New York. She subsequently studied goldsmithing in Austria with Sepp Schmolzer and Josef Symon; mosaics in Ravenna; and enameling in France, Italy, Germany, Austria, Denmark, and the Netherlands.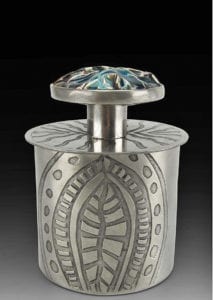 Hilda Kraus was a long-time resident of Westport, Connecticut and taught at the Silvermine Arts Center, the Brookfield Craft Center, and the Stamford Museum. Her work is in the collections of the Everson Museum of Art, Syracuse; the Cooper-Hewitt National Design Museum, New York; and the Delaware Art Museum, Wilmington.
In 1946, her work was featured in an exhibition at the Museum of Modern Art called Modern Handmade Jewelry, one of the earliest and most influential jewelry exhibitions in the postwar period. She was also awarded a purchase prize in the seminal exhibition Enamels '70 organized by the Craft Alliance of St. Louis.