Artist  Demos  11:00  -­‐  1:30
Studios  will  be  open  and  artists  will  be  demonstrating  their  handcraft  techniques.  Don't  miss  the  opportunity  to  tour  our  beautiful  campus,  see  artisans  at  work  and  meet  our  talented  instructors.  We  will  also  offer  a  demonstration  of  3D  Printing!
Gallery  Exhibit  Opening  11:00  -­‐  1:30
"Traditions  Preserved"  This  exhibit  includes  the  work  from  all  of  our  children's  summer  workshops  as  well  as  works  from  our  talented  faculty.
Sculpture  Unveiling  1:30
Come  celebrate  the  newest  addition  to  the  Brookfield  Craft  Center's  collection  of  permanent  public  art!  Unveiling  at  the  Lynn  Tendler  Bigwell  Fiber  Studio.
What our Talented Artisans will be Demonstrating on June 28th
Weaving
Christine Wilkinson will be working with a Rigid Heddle Loom
Kathy Van Duzee will be creating a Bargello Quilt
Cecilia Marshall will be demonstrating Silk Painting
Forge
Matthew Parkinson will be Blacksmithing
Chris Doherty will also be Blacksmithing
Woodturning
Jim Degen will be Turning Wood
Glass Studio
Suzanne Pisano will be creating Fused Glass Plates and bowls
Maureen Henriques will be crafting Lamp Glass Beads
River Room
Ken Rist will be demoing new technology at BCC – 3D Printing
Leslie Smith will be creating Plastic Tubing Sculptural Basketry
Metals
Erin DeLuca will be Silversmithing
Viola Galetta will be Beading
Lanette Berber will be demonstrating Metalsmith work
Ceramics
Our potters will be demonstrating Hand Building and Throwing
Keep an eye out for our upcoming July class schedule – coming soon!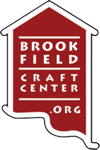 Brookfield Craft Center
286 Whisconier Road
Brookfield, Conn. 06804
Press Contact: Joanne Hunter
(203)241-9206 Email: director@brookfieldcraft.org
FOR IMMEDIATE RELEASE
BROOKFIELD CRAFT CENTER TO HOLD OPEN STUDIO DEMO DAY AND GALLERY EVENTS
Community Invited to Attend This Free Event
June 1, 2014, Brookfield, Conn.—The Brookfield Craft Center Board of Directors announced today that it will hold an open studio demo day in celebration of the tradition of hand craft. The event coincides with the "Traditions Preserved" gallery exhibit opening, which will include the work from recent children's crafting workshops, as well as works from the Craft Center's talented faculty, and with the unveiling of a sculpture, which will become part of the Center's permanent collection. A demonstration of 3D printing will also be featured.
"We are thrilled to re-open the campus of the Craft Center to the public," said Joanne Hunter, a member of the Center's Board of Directors." "This promises to be a great, family-friendly event that will help the community get re-acquainted and re-engaged with all that Brookfield Craft Center has to offer."
Mary McDaniel, co-Chairman of the Craft Center's Board of Directors added, "Our Board has worked very hard over the winter months to create a new vision, with the goal of securing the future of the Craft Center as an integral part of Brookfield's Four Corners district revitalization. Through both the historic nature of our campus and the beauty of the river running through it, the Craft Center will be a place for the community and families to come together, create, relax, and re-connect."
The studio demos and gallery exhibit opening take place between 11:00 a.m. and 1:30 p.m. on Saturday, June 28th. The sculpture unveiling takes place at 1:30 p.m. There is no charge to attend and all are welcome. For more information, please visit www.brookfieldcraft.org.