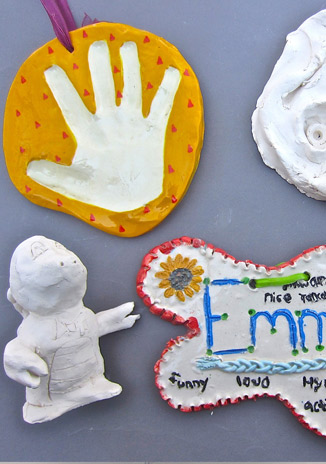 The ceramics workshop is a fun 2 hour class will introduce children to  basic clay skills. We will be hand building and using our fingers, rolling pins, and other tools to squish, shape, imprint and draw onto the clay.  Each child will make one or two pieces that will be kiln fired and then glazed in the second class.
For ages 8-12, this class is limited to 8 students.
Taught by Lisa Scroggins
Saturday May 17   1-3 pm Ceramics Studio
Saturday May 31   1-3 pm Ceramics Studio
Teacher Bio
Lisa has been creating with clay for as long as she can remember. In elementary school she would make faces and handprints, by high school she was throwing. Her college years were spent creating in clay and pursuing a degree in graphic design. Professionally she worked in package design, graphic design and advertising companies. And then one day she decided that it was time to get her hands in the clay again. She left her job and pursued a career in ceramics. She feels that her years spent as a designer greatly influenced the graphic way she pursues her glaze finishes with bright contrasting colors and sharp line work. For 20 years she has been teaching ceramics and has participated in creating her ceramic art in national galleries and shows
Register for the Ceramics Workshop
Please Note: You will receive an email confirmation of your place in class. If you select a class with two parts, please make sure you are able to attend both workshop dates. Finished workshop pieces will be kept for a Gallery Exhibit on Saturday, June 28th.
Our classes have been filled! Thank you for your interest in our Free Children's Workshops.