Ever wonder how a blacksmith makes a hook, a jewelry artist works their magic or a potter makes a bowl?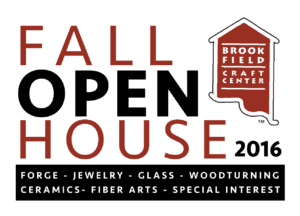 Brookfield Craft Center, one of the nation's premier fine craft education institutions, will host a community open house on Saturday, October 15th from noon to 5 p.m. on their campus located at 286 Whisconier Rd. This fun event is free, open to the public and will feature demonstrations conducted by talented faculty artists working in the areas of blacksmithing, jewelry making, glass arts, ceramics, weaving and fiber arts, wood turning and more. 
All seven teaching studios on BCC's beautiful 2.5 acre campus will be open for view.  Linda Banks, Kathy Corigliano, Ellen Morrell, and Suzanne Pisano will be featured in the glass studio. Barbara Drillick, Christine Wilkinson, and Victoria Carter will be demonstrating creative fiber techniques in the fiber studio. Skilled artists, Kaitlin Clark and Will Talbot will show spectators how pottery is made in the ceramics studio from 2 to 5 p.m. Up at the forge, Chris Doherty will awe audiences with his blacksmithing skills. The jewelry studio will be buzzing with demonstrations by talented instructors, Lori Meehan, RobinBeth Faulkner, Sally Williams, Patricia Segar, and Jeannette Shanahan.  Lathes will be running full force in the woodturning studio, operated by BCC faculty members, Jim Degen, Alan Ganek, and Don Metz. Just outside on the deck of the woodturning studio, Linda McMillian will demonstrate woodcarving techniques. Presentations by Photographer, Colin Harrison and Sketch-up Instructor David Heim will take place in the river room.
For those who want to get creative, a hands-on silk scarf painting activity will be hosted in the fiber studio. For a small materials fee of $15, each participant will take home a one-of-a-kind scarf that can be shown off to friends or given as a gift.
The gallery store, home to the work of over 150 fine craft artisans, will be open for shopping.  All sales that day will be tax free and BCC Members will receive an additional 10% off. Registration for beginning to advanced-level fall and winter classes will also be available.
For more information on Brookfield Craft Center or the Open House event, call 203-775-4526, email info@brookfieldcraft.org or visit us on the web at www.brookfieldcraft.org