Brookfield Craft Center, one of the nation's premier fine craft education institutions, will host a community open house Saturday, May 20th from noon to 5 p.m. on their campus located at 286 Whisconier Rd in Brookfield, Connecticut. This creative event is free, open to the public and will feature demonstrations conducted by talented faculty artists working in the areas of blacksmithing, bladesmithing, jewelry making, glass arts, ceramics, weaving and fiber arts, woodturning and more.
All six teaching studios on BCC's beautiful 2.5 acre campus will be open for view, with several hands-on activities available for visitors to try. Participants will also be able to sign up for classes and the Hands-on Art summer program for youth, as well as register to win an education gift certificate that day. In the gallery store, visitors will be able to view and purchase hand-crafted items made by the over 100 fine craft artisans who are represented in the shop.  The Lynn Tendler Gallery will feature an exhibit of fine metal works from the Good Forge, and rede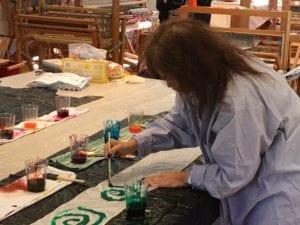 dication ceremony of the newly expanded forge will take place at 11:30 a.m.  The expansion, made possible by funding from the Windgate Charitable Foundation will allow for larger class sizes, and additional projects and instruction  in sword making, metal sculpture and more.
If you have ever wondered what goes on in those historical buildings by the river, or want to see talented craftsman and artists at work, this is a great event for all ages to enjoy.